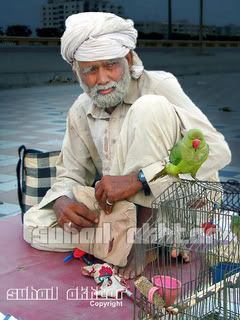 Window-shopping in lazy leisure.
All around on the crowded streets
Colour lived in strange ever places.
And in chocolate smeared faces.
Saris hung in neat pleats
Billowing gently in the breeze
In flamboyant dainty creations
Of sunny yellows, bloody reds
Celestial blues and earthy greens.
Ahhh! the tempting array of sweetmeat
Oozing yellows, peaceful whites
Brown delights, all silver topped.
I glide down the road ingesting sights.
Under a gigantic black umbrella
An old man and a flowing white beard
Dressed in a white kurtha-pyjama.
And I was drawn to his side
That look? Was it a plea or a vision?
He had as companion, a little green parrot
In a cage so very very small
Sprayed before it was cards of future.
Wafted into the air around
As I worked myself into the mood.
To the parrot and to the man.
They looked each other in the eye.
Then at me looked, four burning eyes.
The door opened and out stepped the parrot
to pick my future on a card.
at the card and then at me.
He spoke at last in a voice
that cracked and crackled
"Young lady!! You are floating!!
Where bizarre thoughts are flowing!!"
I smiled and thanked him.
in the mundane sane bane called life.
The libretto boat sailed into my life!
And by the river so turbulent yet calming
I sat writing about my world
Weaving dreams and thoughts
That old man and his parrot,
Oh! My bizarre weird bazaar!!
That old man and his parrot,
Oh! My bizarre weird bazaar!!
(July 2006, Nellore)
©
Nalini Hebbar/openmind/2009
- all rights reserved