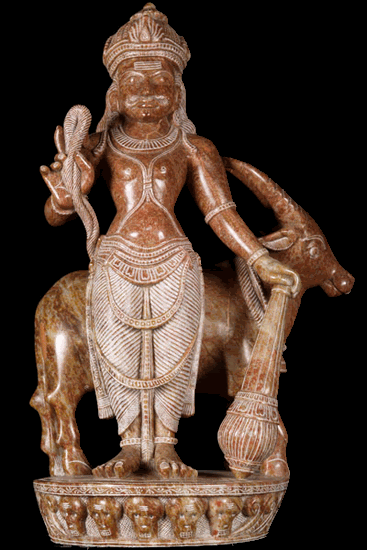 Yama, the king of death, the ruler of Kalichi,
His skin strange dark emerald and eyes coppery.
In robes blood red he is seen upright haughty
A mace in one hand to strikes down a person
And a noose in the other to pull out the soul
He rides a water buffalo to call on the living
Whose time on earth ended, fulfilled or partial
Strikes down with mace, drags with the noose
To his macabre palace in the land of Kalichi.
He sits on his throne, the ruler of Kalichi,
Yama the foremost mortal in nether Patala
Acquired the muscle to pronounce death.
Unlocks his vile-dreaded Book of Destinies
To pass judgment on souls in his presence
Proclaimed are aggregates of sins and merits
History good or bad listed as in inventory.
Of men and women and all things living, by
This god of death in the land of Kalichi.
Empyreal powerful, the ruler of Kalichi,
Sounds the obloquy in a voice chillingly final
Assigned is he to one of the hells in his tutelage
If his grave sins merit an extinction of his soul
Or sent he to the abode of Pitris, land of ancestors
Reunited with forefathers in hedonistic permanence
To evade forever-pesky cycle of birth and death.
Or reinstated to earth in a form lesser in stature
Moil for entry and decree in the land of Kalichi.
Important his job, the ruler of Kalichi,
Judgment of souls, rebuff, reentry to earth
Secrets open secrets, my recto before him
Justice to coeval, my work and my mirth
His hand on my soul I fear not in vain
Death too is I feel an empiricism worth
Rebirth an offer not too very enticing
But saintlike and puritan I glean not to be
My visit imminent to the land of Kalichi.
(17th June, 2006, Nellore)
©
Nalini Hebbar/openmind/2009
- all rights reserved